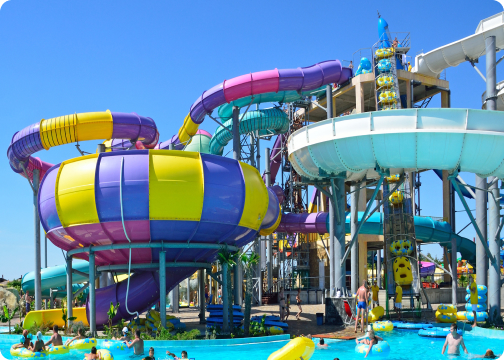 When visiting a waterpark in Lagos, Nigeria, there are several essential items you should consider taking along to ensure a comfortable and enjoyable experience. Here's a list of items you might want to bring:
Swimwear: Pack appropriate swimwear, such as bathing suits, swim trunks, or bikinis, depending on your preference and comfort.
Towels: Carry extra towels to dry off after water activities or to lay on when sunbathing.
Sunscreen: Apply sunscreen generously before and during your visit to protect your skin from the sun's harmful rays. Choose a waterproof sunscreen with a high SPF.
Water shoes or flip-flops: Waterparks often have concrete or tiled surfaces that can become hot in the sun. Wearing water shoes or flip-flops will protect your feet from burning or slipping.
Extra clothes: Bring a change of clothes to wear after your water activities. Lightweight and comfortable clothing, such as shorts, t-shirts, or summer dresses, are ideal.
Waterproof bag: Carry a waterproof bag to store your personal belongings, such as your wallet, phone, keys, and other essentials. This will help keep them dry and safe.
Payment cards: It's always a good idea to have your payment cards with you for purchasing food, drinks, or any other services available at the waterpark.
Waterproof camera or phone case: If you want to capture memorable moments, bring a waterproof camera or use a waterproof case for your phone to protect it from water damage.
Personal hygiene items: Pack essentials like wet wipes, hand sanitizer, and any other personal hygiene items you might need.
Remember to check the specific rules and regulations of the waterpark you plan to visit, as they may have additional guidelines or restrictions on what you can bring. Here at Giwa Gardens Water Park, you can shop for your essentials and even get some without charge.